Medali Emas IGEM Boston

Gold Medal from IGEM Boston


on

November 17, 2014 11:44 am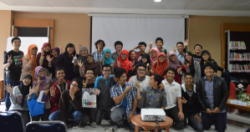 Prestasi bertaraf internasional lagi-lagi diraih oleh mahasiswa ITB yang kali ini menunjukkan taringnya di ajangInternational Genetically Engineered Machine (IGEM) di Boston, Amerika Serikat.Tim ITB berhasil meraih medali emas atas penelitiannya di bidang biosintetik, yaitu meneliti proses rekayasa bakteri Escherichia Coli agar dapat menghasilkan protein untuk mendegradasi plastik PET. Plastik jenis PET adalah plastik yang banyak digunakan sebagai botol air minum kemasan. Empat orang perwakilan tim mendapatkan kesempatan untuk mengikuti jambore di Boston (30/10/14-03/11/14). Mereka adalah Joko Pebrianto Trinugroho (Magister Bioteknologi 2013), Tri Ekawati Heryanto (Magister Bioteknologi 2013), Kenia Permata Sukma (Mikrobiologi 2011), dan Christian Heryakusuma (Kimia 2012).
Prestasi ini adalah buah dari perjuangan tim sejak bulan Juli. Sebab, penilaian dalam perombaan ini terdiri atas tiga bagian, yaitu proses merancang ide, eksperimen, dan dokumentasi kegiatan melalui web. Ide yang dikemukakan oleh tim harus disebarluaskan kepada masyarakat luas, termasuk civitas academica ITB, stakeholders terkait, dan perusahaan-perusahaan. Selanjutnya, proses yang menentukan adalah presentasi dalam bentuk poster dan oral presentation saat jambore di Boston.
Jambore internasional ini diikuti oleh lebih dari 200 tim dari 31 negara. Kesempatan ini tentu menjadi pengalaman yang sangat berharga kepada keempat perwakilan tim karena dapat mengenal perkembangan biosintetik dari perwakilan berbagai negara yang hadir.
"Semua berkumpul dari semua benua. Dari sana, kami dapat melihat sudah seberapa jauh pengetahuan Indonesia dibandingkan dengan pencapaiaan negara-negara lain. Secara teori, kita tidak terlalu beda. Secara teknis, kita memang tertinggal cukup jauh," aku Joko.
Atmosfer ajang International Genetically Engineered Machine saat itu sangat kondusif bagi para peserta yang serius ingin mengembangkan biosintetik di negara-negara masing, termasuk Joko yang didaulat menjadi ketua Tim ITB. Biologi sintetik adalah rekayasa makhluk hidup seperti bakteri unuk melakukan sesuatu yang tidak biasanya tidak mereka lakukan. Menurut Joko, biosintetik dapat dikembangkan oleh berbagai peserta untuk menjadi sebuah solusi yang sangat aplikatif untuk berbagai permasalahan yang ada. Di Indonesia sendiri biosintetik belum berkembang karena ahli di bidang ini pun masih sangat terbatas. "Komunitas penggiat biosintetik masih kecil," ujarnya.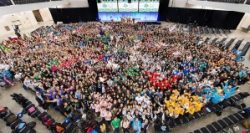 Untuk ke depannya, tim ITB berharap hasil penelitiannya ini dapat menghasilkan sebuah jurnal ilmiah yang dapat menjadi acuan. Joko dan tim berharap penelitian ini dapat menjadi aplikatif, diawali degan pembuatan prototype alat pendegradasi plastik yang telah mereka teliti.
Atas prestasi yang mereka raih, tim mengucapkan terima kasih kepada setiap pihak yang telah memberikan dukungan baik berupa moril maupun materil.
"Terima kasih utuk pembimbing tim ITB Indonesia, pihak ITB sendiri, LK, SITH, FMIPA, dan semua sponsor yang sudah memberikan dukungan kepada kita. Dan kepada pihak-pihak civitas academica yang membantu men-share karya kami. Alhamdulillah, kami berhasil membawa pulang medali emas," tutup Joko.
Sumber : Berita ITB
Achievement international was again achieved by ITB students who this time showing its fangs in ajangInternational Genetically Engineered Machine (IGEM) in Boston, USA.ITB team won a gold medal for his research in the field of biosynthetic, which examines the process of engineering the bacterium Escherichia coli to produce the protein to degrade PET plastic. PET plastics are plastics that are widely used as a bottle of bottled water. Four representatives of teams get the chance to attend the Jamboree in Boston (30/10 / 14-03 / 11/14). They are Joko Pebrianto Trinugroho (Master of Biotechnology 2013), Tri Ekawati Heryanto (Master of Biotechnology 2013), Kenia Permata Sukma (Microbiology, 2011), and Christian Heryakusuma (Chemistry 2012).
This achievement is the fruit of the struggle of the team since July. Therefore, in perombaan assessment consists of three parts, namely the process of designing ideas, experimentation, and documentation of activities through the web. The ideas expressed by the team should be disseminated to the wider community, including ITB academic community, stakeholders, and companies. Furthermore, the process that determines the presentation in a poster and oral presentation when the jamboree in Boston.
International jamboree was attended by more than 200 teams from 31 countries. This opportunity would be a very rewarding experience to all four team representative to learn of the development of biosynthetic from representatives of various countries were present.
"Everyone gathered from all continents. From there, we can see how far knowledge pencapaiaan Indonesia compared with other countries. In theory, we are not too different. Technically, we are quite far behind," said Joko.
The atmosphere arena of the International Genetically Engineered Machine when it is very conducive to the participants who seriously want to develop biosynthetic in their respective countries, including Joko who was asked to be chairman Tim ITB. Synthetic biology is the engineering living organisms such as bacteria transform and do something they normally would not do. According to Joko, biosynthetic can be developed by various participants to be a solution that is applicable to a variety of problems. Di Indonesia sendiri biosintetik belum berkembang karena ahli di bidang ini pun masih sangat terbatas. "Komunitas penggiat biosintetik masih kecil," ujarnya.
For the future, the team hopes ITB results of this research could produce a scientific journal which can be a reference. Jim and the team hopes that this research can be applied, preceded degan prototype tool that degrade plastic that has them carefully.
Its achievements they have won, the team would like to thank all those who have provided support in the form of morally and materially.
"Thanks utuk team leaders ITB Indonesia, the ITB, LK, School of Life Sciences, Natural Sciences, and all the sponsors who have supported us. And to the parties the academic community that helps to share our work. Thank God, we managed to bring home gold medal, "added Jim.