Novartis International Biotechnology Leadership Camp 2016

Novartis International Biotechnology Leadership Camp 2016


on

April 18, 2016 11:51 am





Novartis mengundang lulusan magister dari universitas di Indonesia yang mempelajari kesehatan, ilmu hayati, administrasi bisnis serta teknologi informasi untuk mendaftar pada International BioCamp 2016. Sebanyak 60 pelajar terpilih dari seluruh dunia akan diseleksi berdasarkan data akademik, pengalaman profesional serta aktivitas extrakurikuler dan performa selama BioCamp lokal. Partisipan yang terpilih di Novartis BioCamp 2016 di Indonesia bisa mendapatkan kesempatan untuk mengikuti International BioCamp di kantor pusat Novartis di Basel, Switzerland.

Info lebih lengkapnya dapat dilihat sebagai berikut :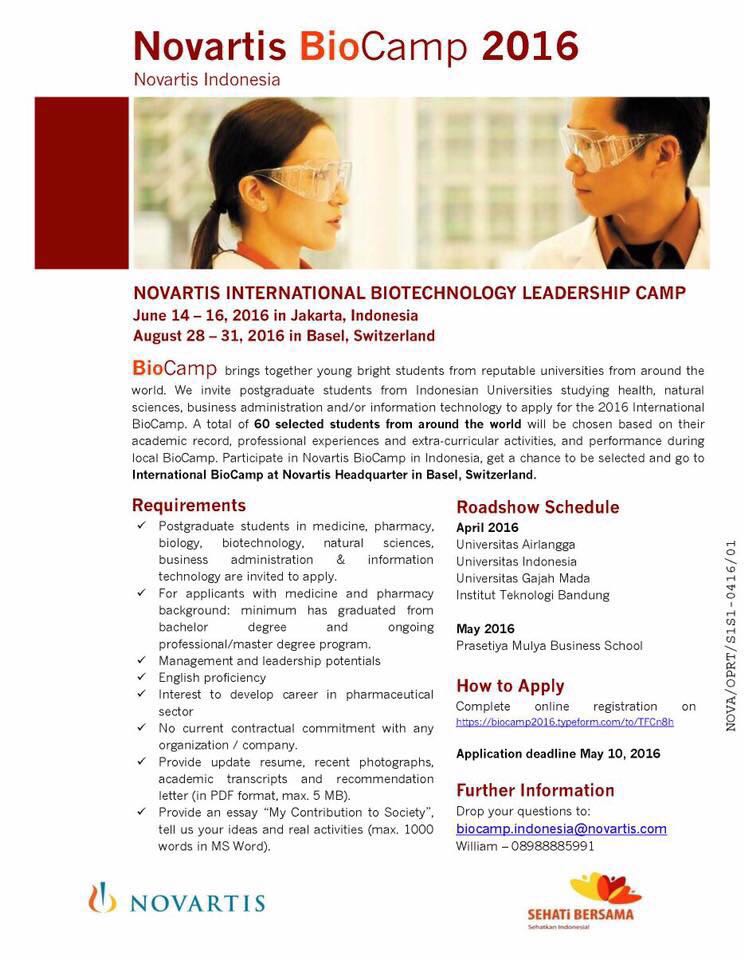 Link registrasi online : https://biocamp2016.typeform.com/to/TFCn8h
Novartis invites postgraduate stdents from Indonesian Universities that studying health, natural sciences, business administration and information technology to apply for the 2016 International Bio Camp. A total of 60 selected students from around the world will be chosen based on their academic records, professional experiences, and extra-curricular activities, and performance during local BioCamp. Participate in Novartis BioCamp in Indonesia, get the chance to be selected and go to International BioCamp at Novartis Headquarter in Basel Switzerland.
For more information could check in as below :
Link for online registration : https://biocamp2016.typeform.com/to/TFCn8h