Program Studi Magister Bioteknologi
Master Program in Biotechnology
Sejak tahun 2004, Sekolah Ilmu dan Teknologi Hayati, Institut Teknologi Bandung telah berkomitmen menyelenggarakan Program Magister (S2) Bioteknologi demi menghasilkan sumber daya manusia yang handal di bidang bioteknologi, yaitu sumber daya manusia yang dapat mengembangkan sumber daya alam hayati menjadi produk-produk yang mempunyai nilai tambah untuk diaplikasikan dalam bidang pertanian, biomedika, bioindustri dan lingkungan di Indonesia.
Since 2004 , School of Life Sciences and Technology, Institute of Technology Bandung has committed to organize Biotechnology Master Program in purpose to produce a reliable and expert human resources in the field of biotechnology. The expert human resources in biotechnology hopefully could develop the natural resources to become products with added value and further could be applied in several fields such as agriculture, biomedical, bioindustry and also environment fields in Indonesia.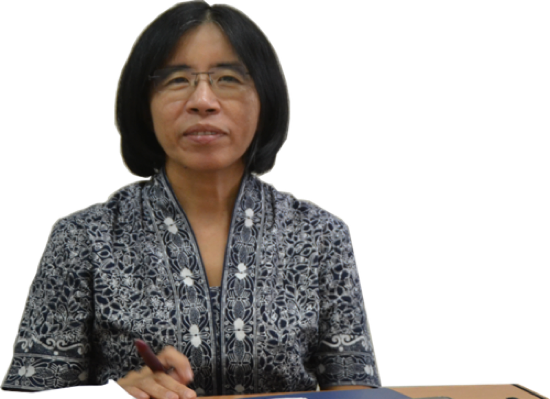 Sambutan Ketua Prodi Magister Bioteknologi
Greetings from the Head of Master Program of Biotechnology
Bioteknologi merupakan keilmuan yang sangat luas yang memanfaatkan dan memodifikasi proses-proses selular dan biomolecular untuk pengembangan teknologi dan produk-produk hayati yang dapat meningkatkan kualitas hidup manusia dan lingkungan.  Bioteknologi dengan metodologi yang sederhana sudah dimanfaatkan sejak berpuluh-puluh tahun yang lalu seperti misalnya dalam menghasilkan produk-produk makanan seperti keju, tahu atau dalam mengelola lingkungan. Perkembangan Bioteknologi ini semakin pesat terutama  dengan adanya perkembangan metodologi di berbagai bidang seperti biologi sel, biologi molekul dan rekayasa genetika yang ditunjang oleh perkembangan ilmu lainnya seperti kimia, fisika, matematika, kedokteran, pertanian dan lain-lain, serta keberhasilan di berbagai bidang penelitian berbasis biologi seperti human genome project dll. Perkembangan ini juga didukung oleh adanya abad 21 sebagai abad bioteknologi. Dengan menggunakan bioteknologi modern, telah dihasilkan berbagai produk terobosan dan teknologi seperti misalnya untuk produk-produk atau teknologi untuk memerangi berbagai penyakit, mengurangi kerusakan lingkungan, meningkatkan produksi makanan, menghasilkan energy lebih efisien dan bersih.
Dengan berlandaskan pada perkembangan bioteknologi dalam menghasilkan produk hayati yang bernilai tambah bagi Indonesia dan juga atas dasar perkembangan keilmuwan bioteknologi di negara-negara maju, ITB sebagai salah satu universitas terkemuka di Indonesia ikut berperan serta dalam perkembangan Bioteknologi dengan mendirikan Program Magister (S2) Bioteknologi pada tahun 2004. Program ini dirancang untuk menghasilkan sumber daya manusia yang handal di bidang bioteknologi, yaitu yang dapat mengembangkan sumber daya alam hayati menjadi produk-produk yang mempunyai nilai tambah untuk diaplikasikan dalam bidang pertanian, biomedika, bioindustri dan lingkungan.
Ketua Program Studi
Program Studi Magister Bioteknologi
Dr. rer. nat. Marselina I. Tan
Biotechnology is a vast field of study which utilizes and modifies cellular processes and bio-molecules for the development of life products and technologies which will enhance the quality of human life and the environment. Simple biotechnology has been applied since years ago, in food production such as cheese and tofu, also in environmental control. The progress in biotechnology is really fast especially due to the advances in the methodology of a variety of biological fields including cell biology, molecular biology, and genetic engineering which advancement is reinforced by breakthrough of other field of sciences such as chemistry, physics, mathematics, medicine, agriculture, and so on. The progress is also supported by the success of biological-based research such as human genome project. Furthermore, the development is boosted by the existence of the 21st century as the century of biotechnology. Modern biotechnology has produced different kinds of breakthrough and technologies, for instance, products or technologies to fight against diseases, to reduce environmental damage, to increase food production, and to generate more efficient and clean energy.
On the basis of biotechnological improvement in creating life products which has an increased value for Indonesia and the progress of biotechnology in the developed countries, ITB as one of the prominent universities in Indonesia also takes part in the development of biotechnology by creating the Master Program (S2) in Biotechnology in 2004. This program is designed to create human resources who are competent in biotechnology, which is able to develop natural resources into high value products applied in the field of agriculture, biomedicine, bio industry, and environment.
Head of Master Program of Biotechnology
Dr. rer. nat. Marselina I. Tan
Visi
Vision
Menjadikan program studi magister bioteknologi sebagai program studi  yang unggul  dalam mendidik mahasiswa agar memiliki ilmu pengetahuan dan teknologi dalam ruang lingkup bioteknologi yang bermakna bagi kehidupan dan bermanfaat di lapangan kerja dan masyarakat.
Making the master study program of biotechnology as a course that excellent in educating students to have a meaningful knowledge of both science and technology within the scope of biotechnology, which also give benefit for work environment and society.
Misi
Mission
Mengembangkan dan menyelenggarakan pendidikan dengan kualitas terbaik dalam ruang lingkup bioteknologi
Menghasilkan lulusan yang unggul, adaptif dan profesional yang mampu berkompetisi secara global dalam ruang lingkup bioteknologi
Mengembangkan pendidikan dalam ruang lingkup bioteknologi untuk memenuhi kebutuhan  dan meningkatkan kesejahteraan manusia
Mengembangkan kemampuan discovery, invention, inovation dan transfer teknologi yang berbasis bioteknologi untuk memenuhi kebutuhan pangan, energi, lingkungan dan kesehatan
Develop and provide the highest quality of education within the scope of biotechnology.
Generate the excellent graduates who adaptive and professionals, and are able to compete globally in the scope of biotechnology.
Develop the education in the scope of biotechnology to fulfill society needs and increase the prosperity of human being.
Developing the ability of discovery, invention, inovation and technology transfer based on biotechnology to fulfill the needs of food, energy, environment and health in society.
PROGRAM
MAGISTER
BIOTEKNOLOGI
MASTERS
PROGRAM
IN BIOTECHNOLOGY

---
PROGRAM
MAGISTER
DOUBLE DEGREE
DOUBLE DEGREE
MASTERS
PROGRAM


---
PERSEBARAN KARIR ALUMNI
PROGRAM STUDI MAGISTER BIOTEKNOLOGI
SITH ITB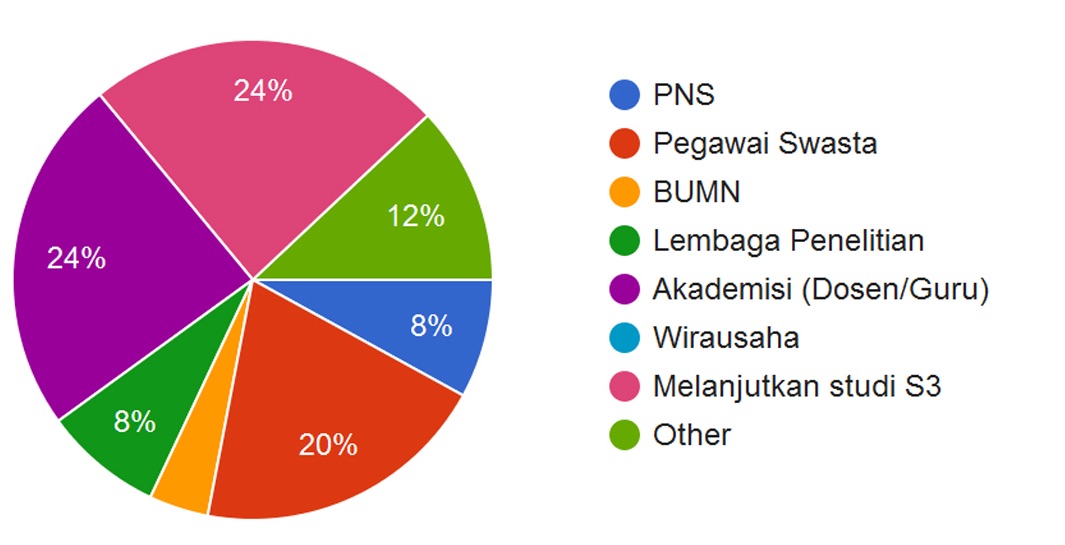 ALUMNI CAREER DISTRIBUTION

MASTERS OF BIOTECHNOLOGY SITH ITB

Kuliah S2 di Bioteknologi SITH ITB itu campur aduk banget. Asik, seru, sulit, dan yang jelas sangat membentuk karakter untuk siap di dunia kerja. Dari segi tenaga dosen jadi inspirasi buat saya untuk memberikan yang terbaik buat negri. (more…)
Studying master's degree in Biotechnology at SITH ITB was a mixed feelings for me. Fun, exciting, difficult, and of course, without a doubt, prepared our characters to be ready for the professional world. The lecturers have become an inspiration for me to give my best to the country.
Kinasih Prayuni (Biotek 2012) Peneliti di Lembaga Penelitian Terpadu, Universitas YARSI
Kinasih Prayuni (Biotek 2012)
Researcher in Integrated Research Center, YARSI University
Menempuh pendidikan master di Bioteknologi SITH ITB mempersiapkan saya untuk masuk dunia kerja dan juga untuk melanjutkan ke jenjang pendidikan lebih tinggi. Tidak hanya ilmu secara teori, namun pengalaman riset juga mendidik saya untuk berpikir kreatif dalam menyelesaikan masalah. (more…)
Taking master's degree study in Biotechnology at SITH ITB prepared myself to enter the professional world and also to continue my study to the higher degree. Not only knowledge in theory, but also research experience taught me to think creatively in problem solving.

Yemima Dani Riani (Biotek 2013) melanjutkan Studi S3 di Osaka University
Yemima Dani Riani (Biotek 2013)
Ph.D student in Osaka University
Lihat testimoni lainnya
See other testimonials
Alumni? Isi testimonial
Alumni? Leave a testimonial
Biotechnology for Better Life

BANDUNG, itb.ac.id- Bioteknologi merupakan salah satu bidang ilmu yang meroket saat ini. Banyak penemuan-penemuan dengan basis bioteknologi yang membuat kehidupan umat manusia menjadi lebih baik. Itulah gambaran sebagian besar presentasi dalam Biotecnology Internasional Conference (BIC). BIC ini merupakan program pembuka dari rangkaian acara Konferensi Internasional Peringatan Dies Emas ITB dengan tema keseluruhan Energy and The Environment: Reinvention For Developing Countries. Konferensi pertama sekaligus pembuka ialah mengenai Bioteknologi dengan topik Biotechnology For Better Life berlokasi di Aula Barat dan Aula Timur ITB pada Senin (15/06/09) s/d Selasa (16/06/09).

Baca Lebih Lanjut

BANDUNG, itb.ac.id- Biotechnology is a field of science that is skyrocketing at the moment. Many inventions on the basis of biotechnology that make human life better. That picture of most of the presentations in the International Biotechnology Conference (BIC). BIC is a program of the opening of a series of events International Conference Warning Dies Emas ITB with the overall theme of Energy and The Environment: Reinvention For Developing Countries. The first conference as well as opening is on the topic of Biotechnology Biotechnology For Better Life is located in the West Hall and East Hall ITB on Monday (06.15.09) s / d on Tuesday (16.06.09)

Read more

Magister Bioteknologi

Masters of Biotechnology

Program Magister (S2) Bioteknologi didirikan sejak tahun 2004. Program ini dirancang untuk menghasilkan sumber daya manusia yang handal dalam bioteknologi, yaitu yang dapat mengembangkan sumber daya alam hayati menjadi produk-produk yang mempunyai nilai tambah untuk diaplikasikan dalam bidang kesehatan, pertanian, lingkungan, dan energi. Untuk mencapai tujuan tersebut, perpaduan sains dan teknologi yang meliputi biokimia, biologi sel dan molekul, bioproses, kultur sel dan jaringan, teknologi fermentasi, rekayasa genetika, teknologi DNA dan bioinformatik, dipelajari melalui perkuliahan dan penelitian.

Baca Lebih Lanjut

The Master program in biotechnology was founded in 2003. This programme is designed to provide excellent human resources in biotechnology, which able to develop natural bio-resources to become products having added values for application in health, agriculture, environment, and energy.
To achieve the mission, an integration of sciences and technologies in biochemistry, cell and molecular biology, biological processes, cell and tissue culture, fermentation technology, genetic engineering, DNA technology and bioinformatics are studied through a courses and researches.

Read more
Program Studi Magister Bioteknologi
Sekolah Ilmu dan Teknologi Hayati
Masters Program in Biotechnology
School of Life Sciences and Technology
Jl. Ganesha no. 10
Bandung, 40132
Jawa Barat, Indonesia